EPS Foam Melting Machines
What are the EPS foam melt machines? EPS foam melting machine has several features:
1.EPS Melting machine has electronic slow motion and electronic limit.
2.Hydraulic buffer is combined with the buffer circuit, the machine runs very smoothly.
3.EPS foam Melting is suitable for processing large objects and it can weld multi points simultaneous.
4. Using multi-stage heat pipe and imported temperature control system, and the temperature control is accurate and reliable.
5. Applying a variety of surface processing treatment such as electrostatic spraying and hard chrome plating. The appearance of EPS Melting is excellent and it is durable.
EPS foam hot melting machine is mainly applied for plastic parts welding of large items such as household appliances and the headlight of an automobile. According to the different sizes of plastic parts, the machine can set the heating power, the size of the machine can also achieve the welding of a variety of plastic parts, it is very simple for people to operate the machine and easy to use. At the same time, new equipment added new technologies such as adjustable time and pressure, adjustable temperature and power.
EPS foam machine can melt these kinds of materials: Oron polyacrylonitrile, polyester resins, ethylene acrylonitrile, polyethylene oxide, polysulfone, polyethylene PP, polypropylene PP, polyethylene PE, polycarbonate PC, nylon , polyphenylene oxide, acrylic and PVC alloy, ABS and PC compounds, cellulose, acrylic, acetal resin (PVC), ethylene propylene diene sunny SBS, plastic hot melt equipment, plastic heat staking machines.
This machine is suitable for products such as: optimal shield, U disk, MP3, MP4, mobile phone accessories, computer accessories, outdoor refrigerator, door plank, vacuum cleaners, washing machines equilibrium diagram, tunnel ball, CD box, the rhythm dance pedal, watertight and airtight,film welding, tool packaging , PET film and plastic sheets, PVC films and plastic plates.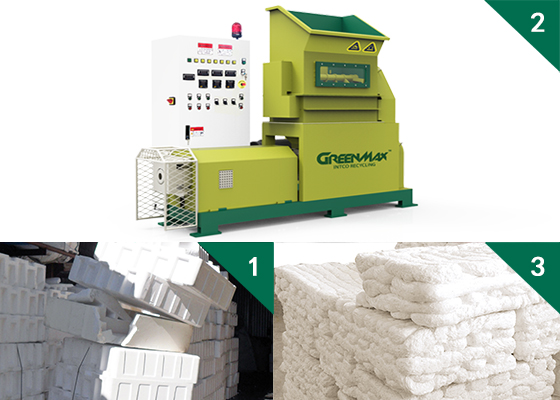 GREENMAX EPS foam recycling machine features
Small size, high efficiency, low energy consumption, saving time and labor;
Easy operation, automatic crushing and processing EPS foam;
You can select the corresponding size of the actual situation doghouse;
The compression ratio of EPS foam compaction effect is up to 40:1;
Does not change the physical properties of the waste, it is conducive to further recycling;
The compacted foam blocks can be cut off according its own size and length;
Spiral cold compress, odor-free production, reliability and environmental protection;
Polystyrene compactor can be used in XPS, EPE, EPP foam and rigid EPU compression volume reduction work;
Product workmanship, reasonable price and high return on investment.
EPS foam recycling machine application
EPS foam melting machine is suitable for foam recycling business, electronics factory, packaging materials plant, storage and transportation logistics company, waste recycling, plastics recycling business, as well as urban communities and other places.