Will PET Bottles Take the Place of Glass Ones for Beer Packing?
As we know, beer as a kind of drink, is very common in our daily life, and the consumption of it is quite large. According to the forecast, the whole world's output of beer will increase at the rate of 2.4% per year, which lays a good foundation for the healthy development of the beer's packing and tag market. Meanwhile, this favorable circumstance also raises higher demands for the packing industry.

Traditionally, glass bottle is used as the main container for beer. However, as glass has the disadvantage of frangibility and heaviness, it is necessary to develop other cheap and suitable materials. PET bottle, as to be a new type of container for beer, is worthy of being deeply researched and developed. This subject has now become the hot spot of exploitation in the beer packing industry.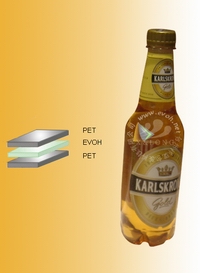 PET Bottle 1

Why Is PET Bottle Chosen to Be the New Beer Packing?

PET, short for Polyethylene Terephthalate, is a high polymer with smooth surface. In quite a wide range of temperature PET can keep its good physical and mechanical properties, and even can be used for a long time at the temperature of 120℃. It also has a good electric insulation, even under the high temperature. In addition, its creep resistance, fatigue durability, abrasion resistance and dimensional stability are in a good level. What's more, without poison and odor but with fine waterproof, oil proof characteristics, resistance to dilute acid and dilute alkali, PET is safe and healthy for food packing.





PET Bottle 2


PET Bottle Recycling

Compared with glass bottles, PET bottles do have the advantages of light in weight and safe for using. As for the problem of dealing with waste plastic, PET bottles can be recycled just as the glass ones. By extracting the liquid from the PET bottles and then compacting the bottles with PET Compactor is a good choice to do the recycling job.

PET bottle for beer packing in the near future is of great prospect, which would promote the development of beer packing and PET recycling industries. Whether PET bottles would replace the glass ones or not, we will see.