PACK EXPO 2014 in Chicago
PACK EXPO is one the largest pack exhibitions in local America and North America, and has a great influence in the packaging industry. PACK EXPO is held every year in Chicago and Las Vegas alternatively.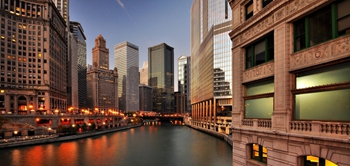 This year's PACK EXPO was held during November 2nd to 5th in Chicago. It was organized by PMMI and co-located with PHARMA EXPO. Therefore, it totally covers an area of 120,000㎡.

As a big and perfect communication platform for the packaging industry, PACK EXPO attracts a great numbers of exhibitors and visitors from various fields, including beverage, food, dairy products, fruit and vegetable, seafood, pharmaceutical and so on.




It can be said that when exploring the technologies required by all walks of life, PACK EXPO can make you concentrate on the point of processing and packaging solutions. And it is the only one in the whole world having this feature.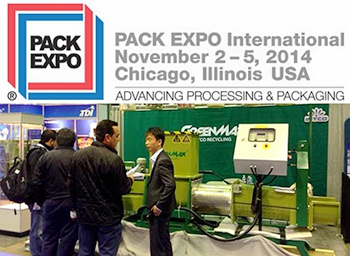 GreenMax of INTCO Recycling had booked two stands in PACK EXPO 2014, separately showing the GreenMax recycling machine of Poseidon and Apolo. Poseidon is for dewatering and compacting packaging and containers like beverage bottles while Apolo is EPS Compactor, dealing with waste EPS.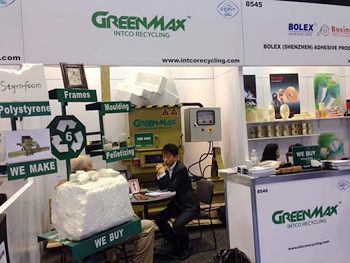 Of course, apart from the two mentioned above, we also have other two categories of EPS recycling machines. Mars Series is a kind of hot melting machine and Zeus Series can compact plastic foam with reinforced strength, and materials like EPP and EPE are also able to be processed by it.

Many visitors on the site were interested in us, either in our recycling machines or in our EPS recycling solution. They stopped in front of our products to have a close look and ask our salespersons questions.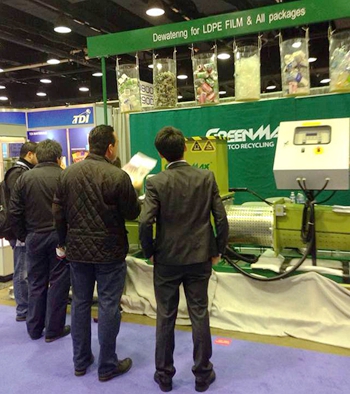 We are lucky that we live in the century where the concept of environmental protection is becoming more and more popular. The packaging industry, including bottle packaging and plastic foam packaging, now looks for good solution for dealing with waste packaging materials. GreenMax of INTCO Recycling provides them a good selection.