INTCO Was Invited to Participate in the National Day Celebration in L.A.
The 65th anniversary of China's National Day has just past and in that cheerful moment, INTCO was invited to participate in the National Day Celebration held by the Chinese Consulate General in Los Angeles.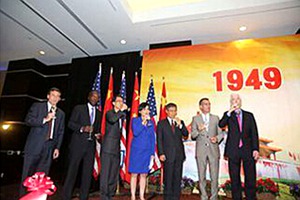 65th-anniversary-of-Chinas-National-Day

INTCO as a Chinese overseas enterprise registered at the Ministry of Commerce of the People's Republic of China and Chinese Consulate General in the United States, was invited by the Consul General Liu Jian and his wife. In this celebration, INTCO represented the Overseas Chinese community in Los Angeles, celebrated the 65th National Day together with the Academic and Business Communities.

The Representatives of the U.S. Congress, the California Financial Officer and the Mayor of Los Angeles bless China on behalf of the American Federal and local government.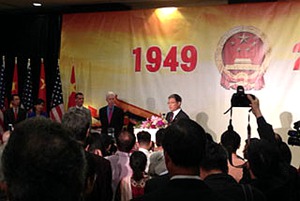 the-distinguished-gathering-of-national-day

Liu Jian, the Consul General of the Chinese Consulate General in Los Angeles make a toast. He said that China has obtained great achievements in the economic and social development in the past 65 years, which not only benefit the Chinese people, but also can promote the stable developing of the whole world. He also expressed the thankfulness to the international friends and the Overseas Chinese in Southern California, who made contributions to the advancement of China.


INTCO as an International Group, has promising business futures in the Medical and Recycling field. Both INTCO Medical and INTCO Recycling have co-operative partners all over the world. The former focuses on medical products, such as gloves and wheelchairs, while the latter specialized in EPS recycling and manufacturing and selling GreenMax—a famous brand of EPS Compactor and Styrofoam densifier.





INTCO-Participated-in-the-distinguished-gathering

It's quite an honor for INTCO to participate in this distinguished gathering. This is also a sign that our motherland is becoming more and more powerful and influential in the globe's view. INTCO feels proud that all walks of life overseas and the U.S. political circles pay special attention to China's National Day Celebration.