INTCO Sponsored the Chinese U22 Warm up Football Match against Iran
INTCO as a large International group, pays much attention to the big events at home and abroad. This time, INTCO sponsored the Warm up Football Match of China U22 national football team of Chinese Football Association VS. Iran U22 national football team.
INTCO-sponsored-the-football-match
On 8th September, China U22 national football team had a warm up football match against Iran U22 national football team in the Weifang Olympic Sport center. This is also China's last formal game before attending the Inchon Asian Games.
INTCO-sponsored-the-football-match
INTCO as one of the sponsors, appeared on the site to cheer for the moment, together with other famous brand, such as Beijing Hyundai, Yanjing Beer, and Adidas. INTCO's nearly 300 employees in Shandong got the chance to watch the game on site, which was very exciting.
After 90 minutes' fierce fighting, China and Iran got even, and the result was acceptable to each other.
INTOC as a leader of the recycling industry, bears great social responsibility. The sponsorship showed INTCO's active attitude and close attention to the development of China's sport events.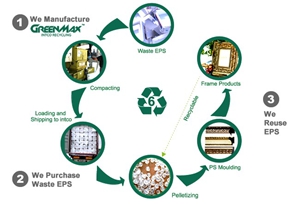 EPS-Recycling-Cycle
INTCO provides total solutions to EPS recycling, manufacturing and selling professional and qualified EPS Compactors under the brand of GreenMax, and purchasing back the compressed EPS blocks to make the end products of picture frames under a further process.
EPS-Compactor
Apart from this event, INTCO will also continue to care about and support China's sport career. In addition, INTCO will make more contributions to environmental protection and resources saving.