CWRE—GreenMax's Last Exhibition in 2014

The year of 2014 is going to the end and GreenMax has just participated in the last exhibition in this year—CWRE. And the busy exhibition season has come to a successful end.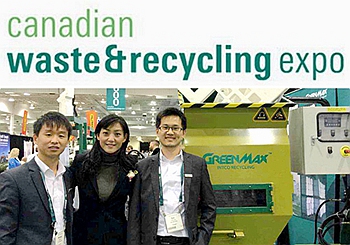 GreenMax in CWRE 2014

CWRE, short for Canadian Waste & Recycling Expo, is the leading exhibition in the area of environmental protection. With the theme of waste recycling, the exhibition covers a series of professional field: Waste disposal, building demolition and so on.

CWRE also involves several communication activities which are co-organized with the Canadian Waste to Resource Conference, providing an excellent education form for waste recycling industry's innovative development.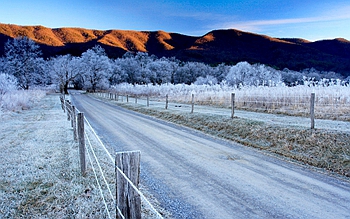 Canada

The exhibition has been held during November 19th to 20th in Ottawa, Canada and more than 250 exhibitors have participated in it, bringing the latest professional technologies, equipment, services and solutions. Although CWRE 2014 is not large in scale, but it can be called the concentrated essence, for all the visitors are waste recycling industry professionals and government officials. The whole exhibition is in the concise but meticulous style, which conforms to the environmental concept of the exhibition itself.
lively CWRE 2014

GreenMax has been engaged in a list of global exhibitions in the recent months and CWRE is the last one in this year. The plastic foam of Polystyrene is called Styrofoam in Canada and America, and the slogan "Haven't your Styrofoam waste become $" is quite match to the environmental conception of INTCO Recycling: we sell Styrofoam Compactors and Styrofoam Hot Melting Machines to help you turn the Styrofoam waste into money. Since the coming up of GreenMax plastic recycling machines, INTCO Recycling's highly-efficient waste Styrofoam solution has been widely accepted and well-carried out worldwide.

Looking back the second half of the year, although there were several exhibition trips in tight schedule, we made everything orderly conducted. From RWM in Birmingham, UK, POLEKO in Poznan, Poland to PACK EXPO in Chicago, USA and ECOMONDO in Rimini, Italy, and now to the last CWRE in Toronto, Canada, GreenMax machinery of INTCO Recycling has been active in the environmental protection and waste recycling area in the whole world.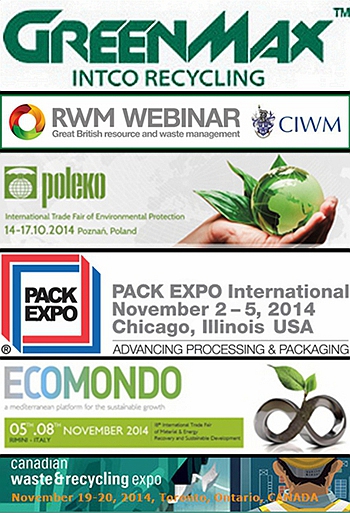 Through these exhibitions, we hope more and more people could know things about waste management and recycling and attach great importance to it. We also want to get more partners in the waste plastic recycling field and provide our recycling machinery service to more countries and regions. And in the coming year of 2015, we are looking forward to the further cooperation with all of you and achieve the win-win situation.