Waste Plastic Granule Machine Structure
The main part of plastic granule machine is plastic extruding machine which is composed of extruding system, driving system, heating and cooling system.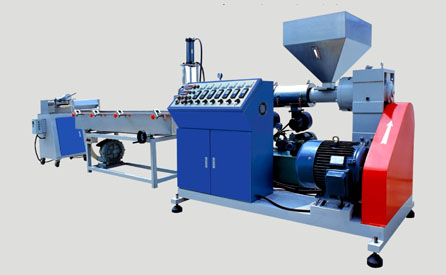 Extruding system
Extruding system includes screw, barrel, silo, machine head and the mould. Plastic transfers into even melting liquid and is screwed out of the machine head under pressure.
(1) Screw. Screw is the main part of extruding machine; it is directly related to the applying range and production efficiency of the machine. The screw is made of high-strength and high corrosion-resistance alloy steel.

(2) Barrel. Machine is a metal cylinder; it is usually made of heat-resistance, anti-compression, corrosion-resistance alloy steel or compound steel tube. Cylinder cooperating with screw can realize smashing, softening, melting, plasticizing, exhausting and compressing; as well as continuous evenly conveying plastic materials. Generally, the length of a cylinder is usually 15 to 30 times the length of its diametric, so that plastic can be thoroughly heated and completely melted.

(3) Silo. There is a chopping device beneath the silo in order to adjust and cut off material stream. Beside the silo is a measure device.

(4) Head and Mould. the shaping mould is equipped inside the head. The function of head is to transfer orbiting moving melted plastic into parallel line moving. Leading the melted plastic to come into the mould steadily and evenly.

Recycled waste plastic needs to be smashed into pellets by pulverize machine, and can produce pellets only after filtering and cleaning.